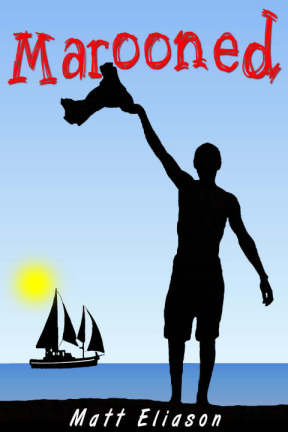 Marooned is a short story (4,900 words) about what happened when a three day 'Robinson Crusoe' adventure went awry.
Circumstances means what was to become a pleasurable brief stay on an uninhabited island becomes a challenge of mind and body.
Come and take the journey…
Sampler
*1
Several hours drive from the nearest town large enough to have a proper supermarket, the National Park is a popular destination that covers almost a thousand square miles on the mainland and includes almost a dozen small islands. These islands range from tiny specks of rock to mighty islands that in times past have been home to hardy cattlemen who brought their steers to market by barge to the mainland then trucked to the sale yards. Where the barges once landed is now a bustling port servicing a fleet of tourist boats that ply the waters between the islands and to the reef beyond.
I am heading to an island on the smaller end of the scale; an uninhabited one nestling in between its two larger siblings that host resorts catering to people better heeled than me. My island is totally undeveloped and from reports, has barely enough flat ground to pitch a tent, which cannot be much, because my tent is really small.
Not having a girlfriend and with all my friends working, I set off solo several months ago in my old car to explore the coast, sleeping in my small two-man tent. Every day my afternoons and evenings are spent chatting with people at camping grounds and backpackers digs; depending on where I stay, and if staying a few days I team up with them and do some local touristy things. But I am free to choose what I do and when I do it, which is just the way I like it. So when I discovered I could camp on an uninhabited island, the 'Robinson Crusoe' awakened in me and I leapt at the chance, paid park camping fees and I am now set for three days and nights of solitude, exploration and adventure.
The sun is shining, as it generally does every day at this time of year and the boat taking me to my island is laden with day-trippers who will tour some of the beautiful inshore islands. Half of the passengers are backpackers and of those, plenty are from Europe. The girls have already stripped down to their bikinis and as they stretch out on the warm deck of the boat to work on their tans, I cannot help but eye their unblemished sun-honeyed skin. I guess it is too late to meet them and try to tempt one to be my 'Girl Friday' on the island.
After an hour and a half the boat engine starts to wind down and I tear my eyes away from the girls and drag my thoughts away from the of the sorts of erotic things a young man primed with testosterone daydreams about, and focus back again on the present. My plans for a few days exploring the island are challenged as the island rises before me. It is about half a mile long and with a steep tussock grass covered hill that is like a jagged spine running from end to end. From the water, the hill looks too steep to climb and the beach, or what there is of it at high tide, runs only a hundred yards either side of where the skipper is nosing the boat up to the shore.
I jump down off the bow into warm waist deep water and some of the other passengers then pass my belongings to me and I stack them on the beach. It is not a pleasant sandy beach, but made up of thousands of bits of dead coral tossed up by storm and tide and is painful under my bare feet.
[purchase_link id="243″ style="button" color="orange" text="Purchase" direct="true"]
Payment is via PayPal (or credit card via PayPal) and your download is instantly available.