Shark sculptures
All shark sculptures are hand carved. Custom orders taken
---
Hammerhead shark
Carved from Jacaranda timber, this hammerhead shark has been finished with raw linseed oil and natural beeswax.
Price is A$60 incl postage to Australia –  overseas buyers please contact me.
Half a great white shark
This hand carved art sculpture of a Great White Shark is made from Australian Lilly Pilly timber.
The item is one-off has been made using only carving axe and specialist knives. No power tools.
The timber has a raw wood finish that features other tool marks and slight imperfections that liken the sculpture to a real shark with life scars!
The object can be wall mounted or affixed to a board. The item includes basic wall hanging fixtures.
The item can be finished in a natural plant oil finish at small extra cost.
Length 215mm (8.5″")
Can be shipped world-wide
Price $85 incl domestic shipping 
Click images for larger
Great White Shark on Stand

(sold)
I personally very much liked this Great White Shark sculpture.
Hammerhead shark

(sold)



Several of these have been made. Custom orders accepted. Pricing A$50-70.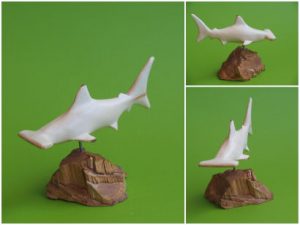 Baby shark

(sold)